The Best Travel Toiletry Bottles
After bending, squeezing, and shaking eight sets of travel toiletry bottles and using them for several weeks' worth of showers, we found that in a world full of similar and disposable-feeling plastic bottles, Sea to Summit's Travelling Light set shows evidence of some actual thought and design. Each bottle has a screw top to prevent leaks and an insert in the mouth to control how much liquid is squeezed out. No other bottle we tested had this clever design.
Our pick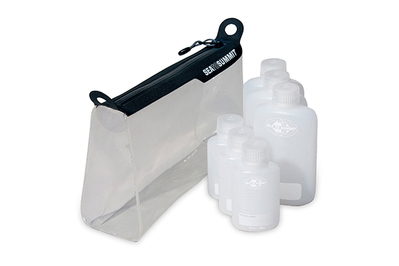 Sea to Summit Travelling Light TPU Clear Zip Pouch with Bottles
Best travel bottles
These six TSA-friendly bottles are sturdy and smartly designed, dispensing liquids more precisely than any of the other bottles we tested.
$25 from L.L.Bean
Buy from eBags
May be out of stock
All six toiletry bottles in the Sea to Summit set conform to TSA size limitations; three of them can hold 3 ounces of liquid each, and three can hold 1.5 ounces each, for a total of 13.5 ounces. Despite the set's name, the bottles themselves are made not of thermoplastic polyurethane—"TPU" refers to the zip pouch—but a high-density polyethylene material, much like what you'd see used in most plastic milk jugs. It has an almost-smooth, semi-transparent surface just textured enough that it's not slippery when wet. The plastic is also flexible enough that you don't have to squeeze very hard to get your shampoo or liquid soap or whatever going. An insert at the mouth of each bottle helps regulate the flow, and the screw tops prevent liquids from leaking in transit.
Runner-up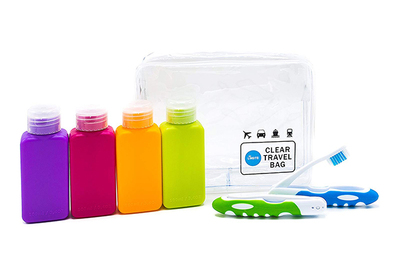 Lingito Travel Bottle Set
Almost as good
They don't leak and their wide mouths help when you're filling them and cleaning them out. But they aren't as well-made or user-friendly as other options we tested.
$13* from Amazon
*At the time of publishing, the price was $12.
The four bottles in the Lingito Travel Set are a step above most other options, but they feel less sturdy than they look. Each holds 3.4 ounces (the maximum that the TSA allows) for a total of 13.6 ounces—just a hair more than the Sea to Summit total. The opaque, thin-walled plastic bottles come in four colors—so even though you can't see what's inside or how much is left, you can at least color-code your goops. Their flip-top caps close securely, and we saw no evidence of leaks during our testing. The hole in each cap, under its lid, doesn't dispense fluids quite as precisely as do those in the Sea to Summit bottles, however. The bottle mouth itself is wide, for easy filling and cleaning. Also included in the set are a clear, zippered plastic bag and two foldable toothbrushes.
Also great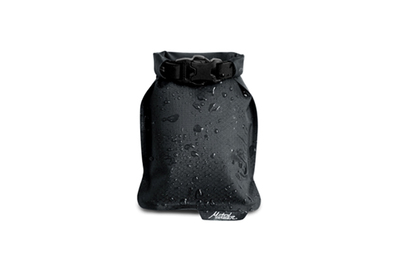 Matador FlatPak Soap Bar Case
For bar soap
This case is made of a tough, waterproof material that wicks the moisture off your wet bar of soap.
$13 from Huckberry
Buy from REI
May be out of stock
This Soap Bar Case comes from Matador's FlatPak line of toiletry bottles, which we found stylish but ultimately not the best option for carrying liquid toiletries. However, if you like or need to travel with your own bar soap, this is the way we'd recommend carrying it. (Of course, TSA size limits don't come into play here.) The case, which looks like a tiny dry bag, is made of welded Cordura fabric, a tough, waterproof material that feels a bit like Kevlar. Because the fabric is breathable, your wet soap will eventually dry even while it's packed away—a definite advantage over traditional hard plastic soap cases, though one you'll pay a lot more for.