The Best Hair Straightener
After spending 10 hours on research and interviews and more than five hours on testing the grip, heat, and performance of 11 hair straighteners on four different people with different hair textures, the GVP Digital stood out from the competition with its adjustable temperature in 10-degree increments, and an easy-to-read digital display that updates in real time so you know when it's ready, unlike like the rest of the straighteners we tested
Our pick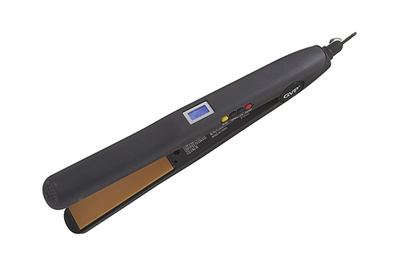 GVP Digital Ceramic 1″ Styling Iron
With a real-time digital display, good-size plates, and no sharp corners or gaps to snag your hair, the GVP makes straightening quick and effortless.
The GVP Digital's temperature range is as wide as the rest of the competition's, and its plates are big enough to grab a strand of hair without being too big to maneuver. It heats up as quickly and is about as light as the rest of the straighteners, and the casing never snagged our hair. The 9-foot-long cord means you won't have to lurk near a power outlet, and its auto-shutoff feature keeps your home and belongings safe. The casing is solid black, and the design is simple and straightforward, but it doesn't look cheap.
Runner-up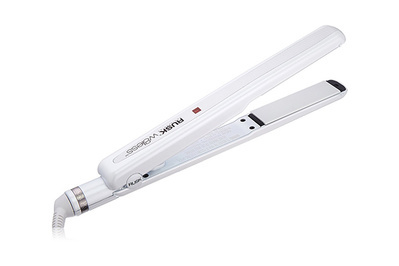 The Rusk W8less is a great lightweight travel iron that's durable enough for daily use.
If our pick is unavailable, we recommend the Rusk W8less. It was the third-lightest hair straightener we tested at 0.50 pound, but the slim plates get just as hot as the GVP's, and the cord is the same length. The smaller design of this straightener makes it great for curling or flipping hair. It also fits nicely in a suitcase.
Runner-up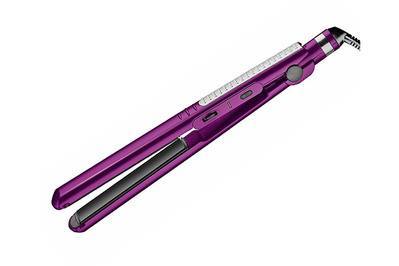 The plates on the Conair Infiniti Pro grip and style hair just as well as the high-end straighteners, plus you'll have a very wide range of temperature settings, but it has a short cord.
If you find yourself going through new hair straighteners on a semi-regular basis, the Conair Infiniti Pro offers the longest warranty—five years—among the hair straighteners we tested. The 1-inch-wide model is lightweight at 0.51 pound and comfortable to hold. The plates are also an inch and a half longer than our pick, at about 5 inches, which can make it cumbersome to flip or curl hair but is useful if you want to work with thicker sections of hair at once.