The Best Air Purifier
Many air purifiers are decent. Vanishingly few are truly great. But a great air purifier can really improve your life. These machines are powerful enough to clean the air in a large living room or playroom, quiet and dark enough to sleep near in a bedroom, and inexpensive enough that it's reasonable to have several spread throughout your home. After seven years of testing more than 30 air purifiers, we believe the Coway AP-1512HH Mighty is the best.
Our pick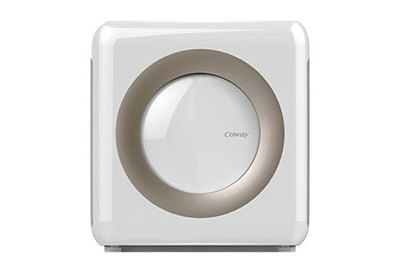 Coway AP-1512HH Mighty
Effective, efficient, and inexpensive
The Coway Mighty is the right size for master bedrooms, playrooms, and living rooms—and it's one of the best-performing, most durable, and most economical purifiers we've ever tested.
$195* from Amazon
(black)
$230 from Amazon
(white)
*At the time of publishing, the price was $145.
Within 30 minutes, the Coway AP-1512HH Mighty reduced heavy smoke pollution in a 135-square-foot, 1,215-cubic-foot New York office by as much as 98.9 percent in 30 minutes. In past tests, it performed equally well in a 200-square-foot, 1,600-cubic-foot New York City bedroom. And when we tested it during ongoing smoke conditions in a vast Los Angeles conference room of nearly 10,000 cubic feet—more than twice as large as the Coway's specs would seemingly allow—it cut particulate pollution by almost 70 percent in an hour. In short: It's a fantastic purifier on performance alone. But that's not the only reason it's our pick. At an up-front price that often lands under $200, and at an average total cost of about $450 for five years of operation (including the base price, annual replacement filters, and electricity), it's easily the most affordable purifier of its abilities that we've ever found. Its compact form, quiet operation, and display-shutoff feature (so it won't disturb sleep with bright lights) make it especially well suited to bedrooms. Finally, the Coway maintains its exceptional performance over the long term: We've repeatedly measured its performance using filters that have been in continuous use 24/7 for a year or more, and every time it has cleaned the air just as well as it has with brand-new filters.
Also great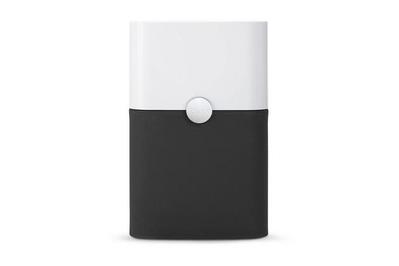 Blueair Blue Pure 211+
A stellar performer for larger rooms
The Blue Pure 211+ aced our tests, and its ability to move extremely high volumes of air make it our pick for large spaces.
$300* from Amazon
$300 from Bed Bath & Beyond
$300 from Best Buy
*At the time of publishing, the price was $292.
The Blueair Blue Pure 211+ is our choice of air purifiers for large spaces of up to 650 square feet, especially spaces with open floor plans or high ceilings. With the ability to filter more air per hour than our top pick, the Coway, it works faster to achieve and maintain low particulate levels in such challenging rooms. The up-front price and running costs of the Blue Pure 211+ are higher than those of the Coway (totaling about $800 versus $450 over five years), but it's far less expensive than most other large-space purifiers we've looked at. It was an exceptional performer in our testing, and it's quiet and attractive to boot. All that said, unless you really need to clean a particularly large space, the quieter, smaller, and more affordable Coway is usually a better option.
Budget pick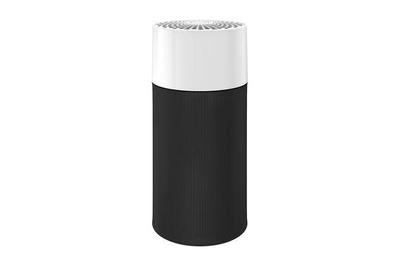 Blueair Blue Pure 411
Small, effective, and attractive
In a small bedroom, dorm room, or office, the diminutive and affordable Blue Pure 411 performs well and looks great.
$100 from Amazon
$120 from Bed Bath & Beyond
$120 from Best Buy
If you need to clean the air in only a small space—a bedroom, nursery, or dorm room, up to about 150 square feet—the Blueair Blue Pure 411 is a solid, inexpensive, and energy-efficient purifier. In such spaces, it performs impressively: In our tests, it reduced particulates by more than 87 percent on its high setting in 30 minutes in a 135-square-foot New York City office. It's also attractive, with a simple cylindrical design and five color options, and it's compact, measuring just 16½ inches tall and 7½ inches in diameter. At around $120 to purchase and about $220 total to run for five years (thanks to excellent energy efficiency and inexpensive replacement filters), it's the cheapest of all our picks. But we found that it didn't keep pace with the AP-1512HH Mighty and the Blue Pure 211+ in larger rooms.
Also great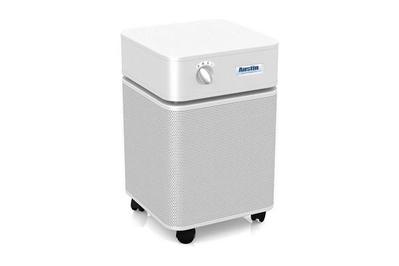 Austin Air HealthMate HM400
For odors and chemical sensitivity
This model's HEPA filter removes particulates (like pollen and smoke) from the air, and its second filter efficiently removes odors and toxic gases—something our other picks don't do well.
$521* from Amazon
*At the time of publishing, the price was $595.
If your environment has high levels of both particulates and volatile organic compounds (VOCs, or more broadly, odors), we recommend the Austin Air HealthMate HM400. Its massive 15-pound VOC filter bested all others we tested by a wide margin, and its HEPA filter offered excellent performance on particulates. The Austin Air's performance comes at a price, however: At about $500 to $600 up front, and averaging around $1,300 for five years of use, it's the most expensive machine we recommend. You could buy and run three Coway AP-1512HH Mighty purifiers for about the same cost, and if particulates are your main concern, doing that instead will let you remove particulates from more rooms and a larger overall area.